Wonen aan of op het water is goed voor onze lichamelijke en mentale gezondheid.
Uit onderzoek is gebleken dat mensen die in de buurt van water wonen, of uitzicht hebben op water, over het algemeen gezonder zijn. Hiernaast voelen zij zich tevredener over hun leven vergeleken met mensen die hier niet wonen. Ook ervaren zij minder psychische problemen. Water in de leefomgeving biedt extra mogelijkheden voor lichaamsbeweging en sociale contacten. Hierdoor hebben voornamelijk de meest kwetsbare mensen van de samenleving baat bij het hebben van water in de buurt van hun leefomgeving. Door de makkelijke fysieke toegang tot een zwemplek blijven de inwoners in deze gebieden fit. Hiernaast ervaren zij minder stress en komen zij gemakkelijker tot rust. Bekijk de illustratie hieronder voor alle overige voordelen: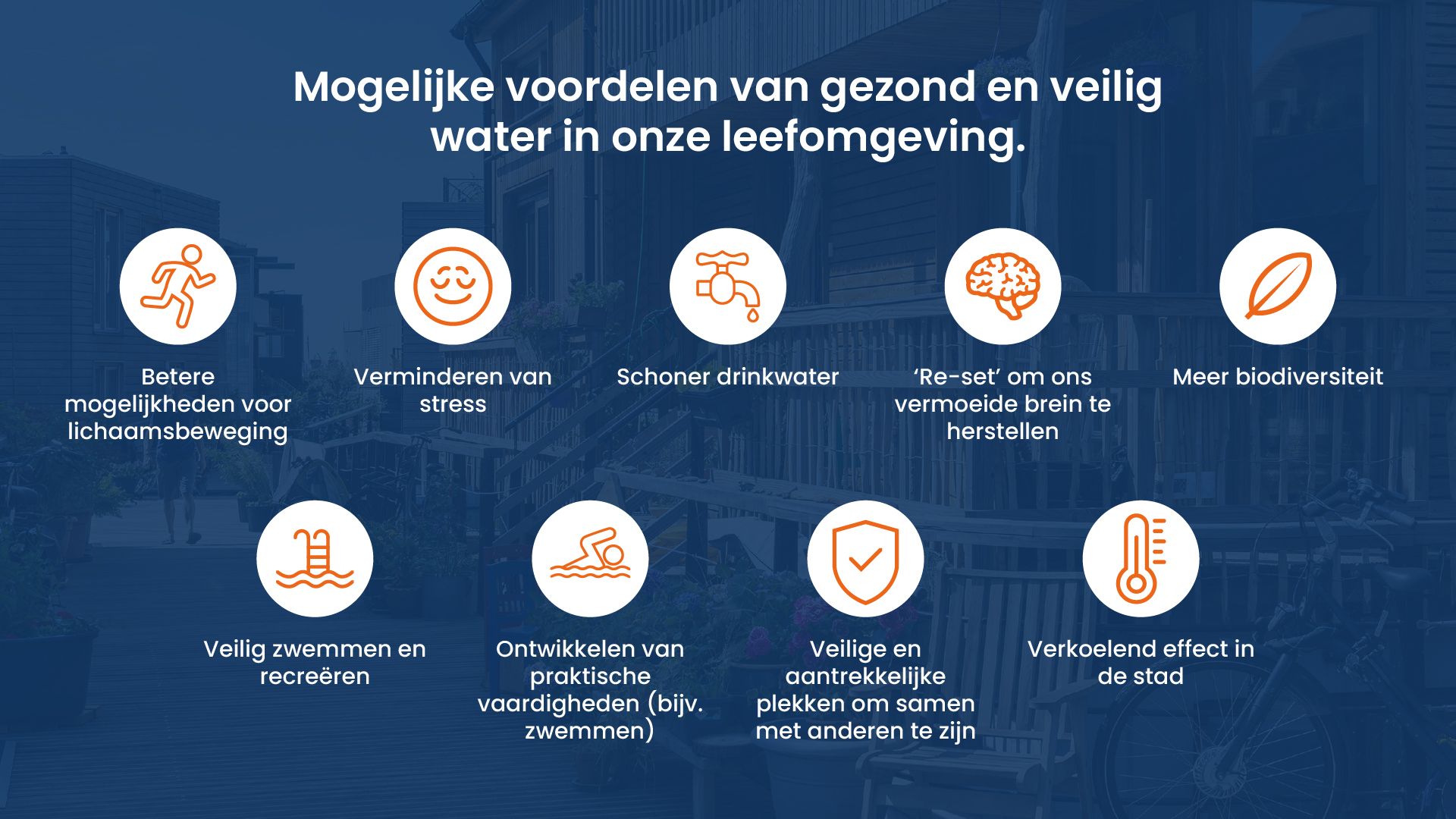 BlueHealth is een Europees onderzoeksinitiatief dat de verbanden tussen stedelijke blauwe ruimten, klimaat en gezondheid onderzoekt.  In de factsheet wordt nog verder benadrukt hoe het welzijn kan worden bevorderd door het ontwikkelen van blauwe infrastructuur.
Drijvend bouwen
Doormiddel van drijvend bouwen en wonen kan dus een combinatie gecreëerd worden tussen woongebied en recreatiegebied. Dutch Lotus draagt graag bij in het creëren van gezondere leefomgevingen. Bekijk onze reeds opgeleverde (drijvende) projecten hier om te zien wat de diverse mogelijkheden zijn. Wilt u graag wat meer informatie ontvangen? Neem dan contact met ons op.
Bron: RIVM & BlueHealth